Pacifier Clips
The Smooch Pacifier Clip Collection helps keep soothing items within reach and off the floor. Each of our modern Pacifier Clips is multifunctional. The chewable Silicone beaded strap doubles as a teether that your baby can have on hand anytime and anywhere. The soft texture of Silicone feels good on sore gums and effectively relieves teething pain. Each of our Pacifier clips meets all US and EU safety standards.
Frequently Asked Questions
Can a Smooch Pacifier Clip be used for a newborn?
Yes, absolutely. However, adult supervision is required. Do not use when the baby is in a cot, bed, or crib unsupervised. 
How do you connect a Smooch Pacifier Clip to a Pacifier or Teether Toy?
Push the end of the loop into an opening or handle on the pacifier or teething teether toy. Squeeze the end of the loop to make it smaller and then push it into the opening or handle. Pull the loop out on the other side of the opening until the edge of the pacifier or handle is up against the strap. Next, bring the clip end of the pacifier strap around and through the loop. Insert the clip and strap through the loop. Tug on the strap until the loop tightens around the pacifier or teether toy's edge or handle. This will secure the pacifier clip it is now ready to use!
How long are Smooch Pacifier Clips?
In accordance with the US Safety Standards, the length of all Smooch Pacifier Clips are no longer than 8 inches long.
Can a Smooch Pacifier clip be used as a teether?
Yes. Each Smooch Pacifier Clip has a Silicone beaded strap. The Silicone beads are the perfect size, shape and texture for little mouths to chew on.
Medical Grade Silicone
Non-Toxic
Safety Tested
No Harmful Chemicals
Clip Your Way to Calm: Helpful Tips for Choosing the Perfect Pacifier Clip
As a mother, keeping your baby's favorite items clean and safe is a top priority. One easy way to achieve this is by using a pacifier clip holder. Pacifier clips are a great way to keep your baby's pacifier, teething toy, teething pacifier, bib, and other small items within reach always and off the floor. With so many options available, how do you choose the best one for your baby? 
Here are some important and helpful tips to help you choose the right pacifier clip:  
Choose a pacifier clip that is made from non-toxic materials that are safe for your baby to put in their mouth. Look for pacifier clips made from silicone, wood, or fabric that are free of BPA, phthalates, and other harmful chemicals. Smooch Pacifier Clips feature a silicone beaded strap. Silicone beads are chewable and provide the added benefit of providing teething pain relief for sore, swollen gums.
Consider the length of the pacifier clip holder from clip to loop. The goal is to choose a pacifier clip that is long enough to keep your baby's pacifier, teether or small toy within reach but not too long that it becomes a choking hazard. The CPSC recommends using a clip with a strap that is between 6 and 8 inches long. Smooch Pacifier Clips measure no longer than 8 inches.
Look for a clip with a strong grip that is gentle enough not to damage clothing. A pacifier clip with a strong grip will keep the pacifier clip in place and prevent it from falling on the floor. Smooch Pacifier Clips are made from natural beach wood and rust-free metal. The benefit of a metal clip over a plastic clip is that metal is strong enough so it will keep the pacifier clip in place and not break easily. It is strong enough for a baby to not be able to pull off but gentle enough to not damage clothing.
Choose a pacifier clip with a loop at the end where a pacifier, teether etc can be attached. A pacifier clip with a loop easily attaches to your baby's favorite small items and keeps them secure and always on hand. Smooch pacifier clips are made from strong and durable nylon. They are designed to be the perfect size to attach to your baby's pacifier or other favorite small items. They are small enough to not cause a choking hazard.
Consider the design of the clip. There are many different designs of pacifier clips available. Choose a clip that matches your baby's personality and that will compliment your baby's wardrobe. But remember, the design of the clip is not as important as its safety and effectiveness. Smooch offers a variety of adorable pacifier clips to choose from.
Choosing a pacifier clip that is easy to clean. Babies drool a lot and crawl over the floor it is easy for pacifier clip can to become dirty and covered in bacteria. Opting for a clip that is easy to clean will save you time and effort, as you can quickly sanitize it without having to disassemble it or spend hours scrubbing it clean.
Safety first! Inspect the pacifier clip regularly for any signs of wear and tear. Replace the clip immediately if it shows any signs of damage.
Why We Love Silicone
Silicone is a recyclable material made from silica (sand). Our Medical Grade Silicone is non-toxic, odorless and free from BPA, PVC, Latex, Pthalates and Lead. Unlike plastic, It can be heated or cooled without releasing harmful chemicals.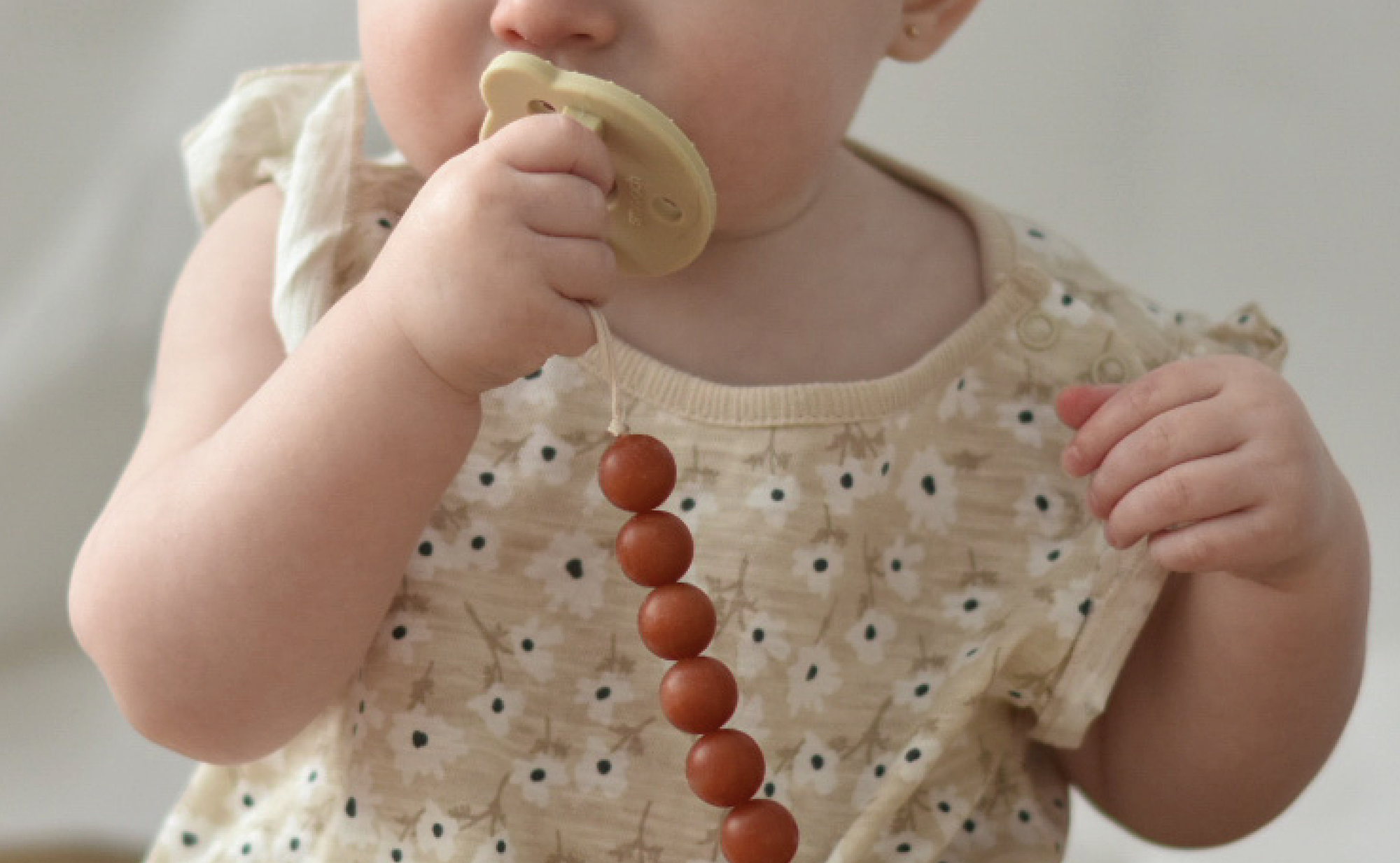 Safety Tested
All Smooch teethers are compliant with US Consumer Product Safety Commission (CPSC), Small Parts and Abuse Tests. All products are tested in an FDA approved lab being put into production. Inspect teething toys and teething accessories before use.