Rocking Teething Toys
Introducing Smooch Rocking Teething Toys! Made from 100% Medical-grade Silicone, these adorable teething toys are safe and gentle on your baby's gums, while the rocking element adds an extra level of fun and entertainment. Designed to promote sensory development and soothe teething discomfort, these teether toys are a must-have. The Rocking Teether is available in five playful and sophisticated colors that make them a stylish addition to your baby's nursery.
Frequently Asked Questions
What is a Smooch Rocking Teething Toy?
A Smooch Rocking Teething Toy was inspired by Jeff Koons' Balloon Dog. It is a baby teether toy made of silicone with different textured nubs that provides a soothing and stimulating effect for teething babies.
Is the Smooch Rocking Teething Toy safe for babies to chew on?
Yes, Silicone is safe, durable, non-toxic, and easy-to-clean. provides a firm yet soft surface for teething babies to chew on.
What are the benefits of using a Smooch Rocking Teething Toy for my baby?
The Smooch Rocking Teether helps soothe your baby's gums during teething while also promoting the development of their motor skills.
How do I clean the Smooch Silicone Rocking Teething Toy?
Clean your Smooch Rocking Teething Toy with warm water and mild soap between every use. Sterilize the teether in a pot of boiling water before the first use and as need.
Medical Grade Silicone
Non-Toxic
Safety Tested
No Harmful Chemicals
Choose The Right Teething Remedy For Your Baby
Both our SoothiPop Teething Pacifiers and Teething Toys make a great addition to every parent's teething 'toolkit'. Made from non-toxic 100% Medical Grade Silicone, all Smooch Teething Solutions are flexible, safe and easy-to-use. Our SoothiPop Teething Pacifiers are especially designed for younger teething babies who benefit from using small teethers that can be maneuvered effortless in little hands and mouths in order to reach and soothe sore, irritated gums.
Each surface of the SoothiPop Teething Pacifier is textured so that no matter what angle your baby holds or chews, they will receive the full soothing benefits. Our chewable braided and beaded handles are the perfect size and shape for little hands to hold. Our buttery soft, textured shield designs are flexible and will not irritate your baby's sensitive skin if your baby uses our SoothiPop Teething Pacifier hands-free and keeps it in their mouth like a pacifier. Like all Smooch teething remedies, our one-piece SoothiPop Teething Pacifier design doesn't have any cracks, crevices or holes where bacteria can form and doesn't contain any small parts that can break apart to cause a choking hazard.
Smooch SoothiPop Teething Pacifiers and Teething Toys both deliver the oral sensory input babies need by providing comforting sensations to sore, irritated gums, by helping to develop fine motor kills and by helping with the transition to food and baby led weaning through the introduction of different textured surfaces and oral sensations.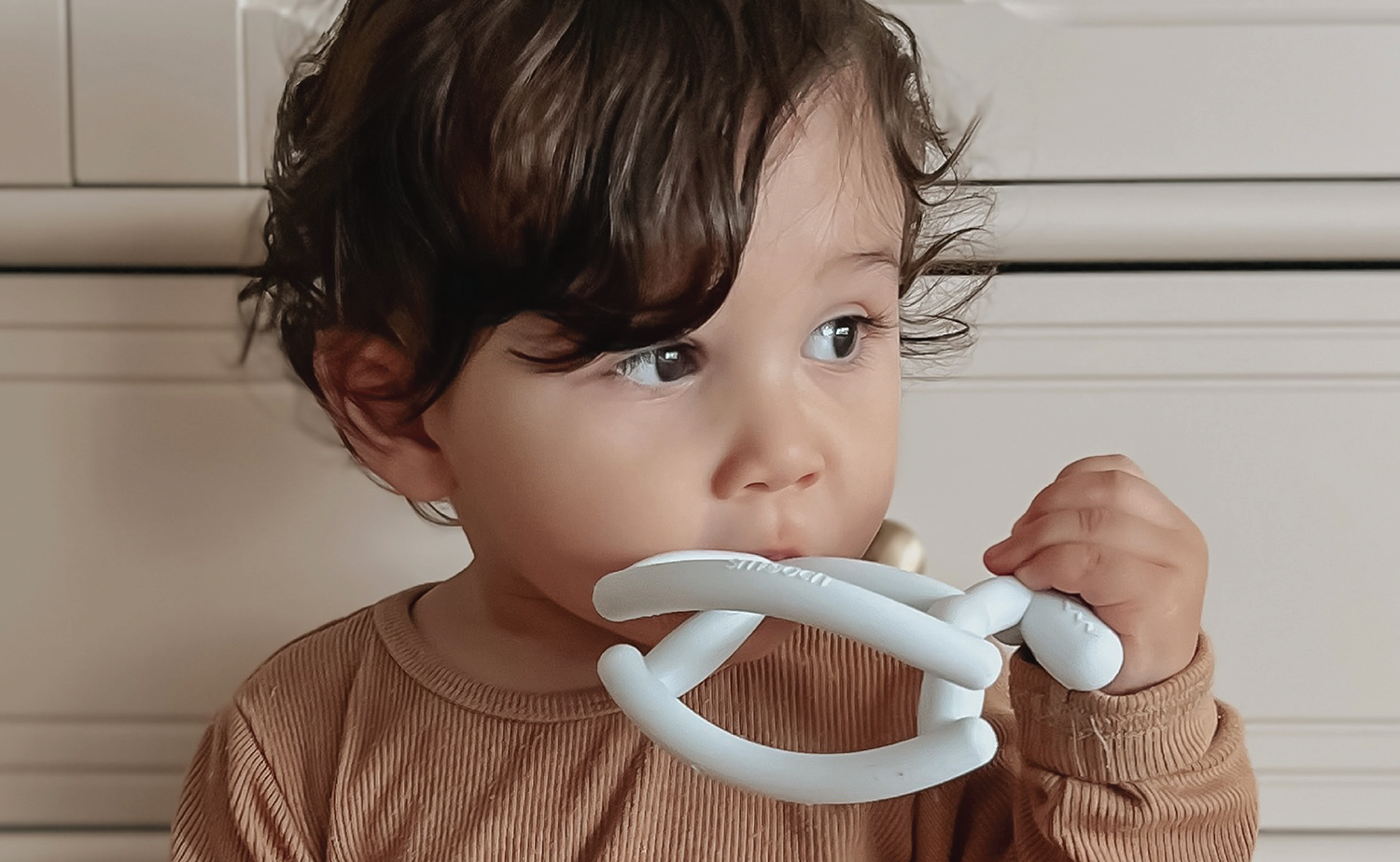 Why We Love Silicone
Silicone is a recyclable material made from silica (sand). Our Medical Grade Silicone is non-toxic, odorless and free from BPA, PVC, Latex, Pthalates and Lead. Unlike plastic, It can be heated or cooled without releasing harmful chemicals.
Safety Tested
All Smooch teethers are compliant with US Consumer Product Safety Commission (CPSC), Small Parts and Abuse Tests. All products are tested in an FDA approved lab being put into production. Inspect teething toys and teething accessories before use.