SoothiPop Silicone Teething Pacifiers
Smooch SoothiPops are unique, textured teething pacifiers made from 100% Medical-Grade Silicone. Each SoothiPop design is durable, lightweight, compact and effective. Every surface is filled with engaging textures that massage sore, irritated gums during use, while built in safety measures like the easy-to-hold handle and air holes keep your baby safe and happy.
Frequently Asked Questions
Is the SoothiPop good for babies to use?
Absolutely! All Smooch teething products are made from BPA-free Medical Grade Silicone, are easy to use and feature fully textured surfaces that massage and soothe sore gum.
How often does my SoothiPop need to be replaced?
You should replace your SoothiPop after 90 days of continuous use.
Is the SoothiPop a one-piece construction?
Yes. the Soothipop is a made from one solid piece of medical-grade silicone
How long can The SoothiPop be used?
The SoothiPop can be used as a teether during the entire teething stage and as a sensory tool for after the teething stage ends
Medical Grade Silicone
Non-Toxic
Safety Tested
No Harmful Chemicals
Baby Soothers: Pacifiers vs. Teethers - What's the Difference?
It can be overwhelming to navigate the world of baby products and find the right ones for your little one. Two common items that parents often turn to for soothing their baby are pacifiers and pacifier shaped teethers. While they may look similar, there are some important key differences between the two.
Firstly, a pacifier shaped teether is designed specifically to relieve teething pain, and provides different benefits than a pacifier. Pacifiers are designed to help soothe newborns and babies by satisfying their natural sucking reflex, which can help them feel comforted and calm. The teething pacifier has a completely different function, which is to provide a safe and stimulating chewing option for teething babies only. Please note that generally the teething stage lasts between 6 months of age up to 2 years of age. While pacifiers may help soothe a fussy baby, they are not intended to be used as a teething product, as they are not designed to withstand the force of a baby's developing teeth.
Secondly, pacifiers and pacifier teethers may be made from different materials and have different safety features. A pacifier is designed as a soothing mechanism for a baby 0-6 months to suck on and mimics the shape a mother's nipple. Pacifiers are made from a soft material that is safe and easy for a baby to suck on. Pacifier nipples are often made from rubber, latex or silicone where as pacifier shields and handles are usually made from plastic. 
The teething pacifier, on the other hand, is designed to be chewed on and is made from one solid piece of 100% Silicone, which is a firm material that is safe for a baby with teeth to chew on repeatedly. Silicone teething products including the pacifier shaped teether feature raised textured nubs and multiple chewable surfaces that promote sensory exploration. This type of teether is designed to mimic the shape of a pacifier, with circular shield, easy to hold handle and a bulb-shaped end that can be easily chewed on and gripped by little hands. 
Using a teether as a substitute for a pacifier can expose your baby to potential safety risks, such as choking or swallowing small parts since a pacifier nipple and shield are generally made from two different materials that are fused together during production vs. the teething pacifier, which is made from one piece of medical grade silicone.
It is important to always use a baby product item for its intended purpose, and follow the manufacturer's instructions for use and safety. The pacifier shaped teether is a great option for parents looking to provide teething pain relief for their teething pain. By understanding your baby's individual needs and preferences, you can find the right teething option to provide them with the comfort and relief they need during each stage of babyhood.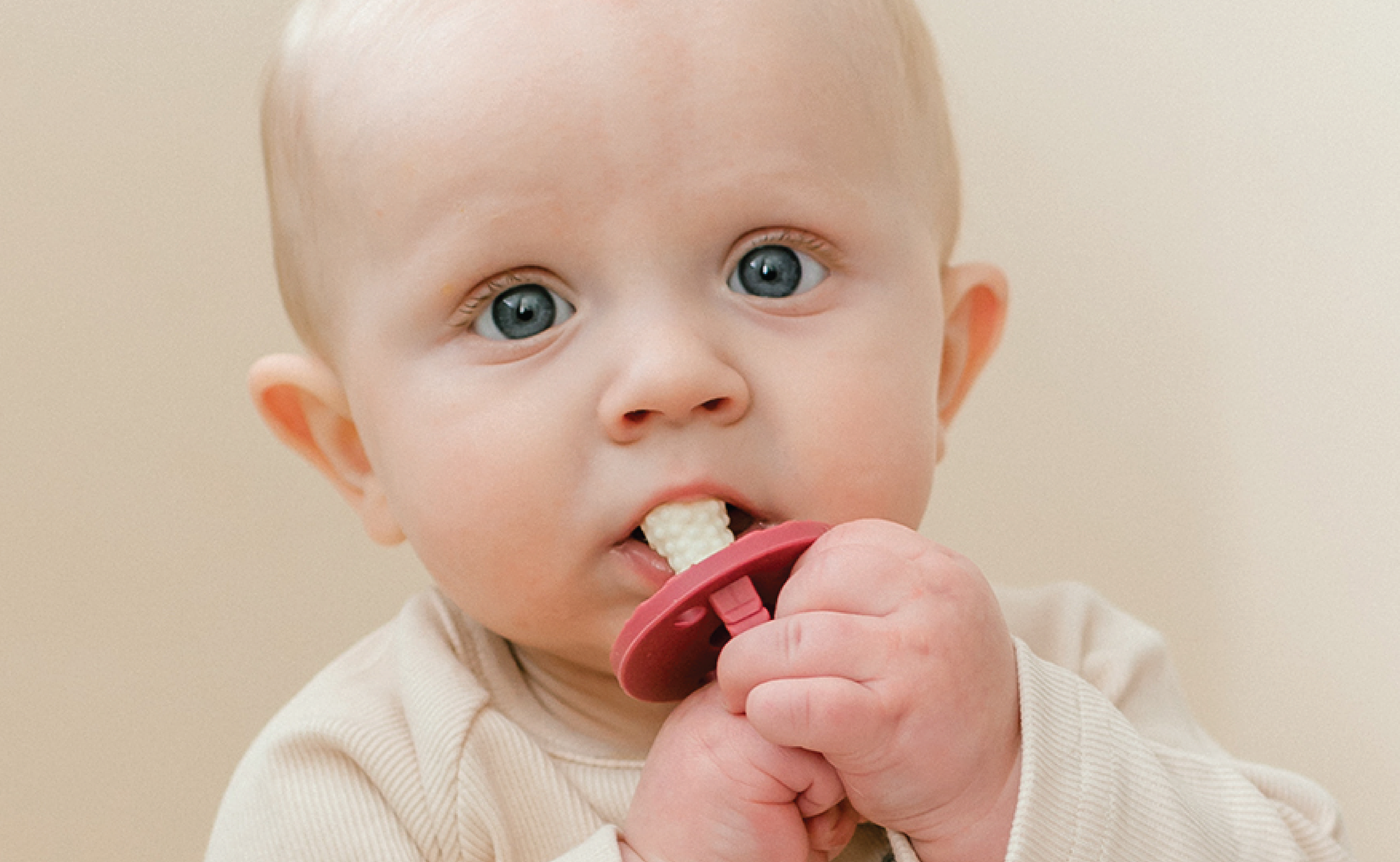 Why We Love Silicone
Silicone is a recyclable material made from silica (sand). Our Medical Grade Silicone is non-toxic, odorless and free from BPA, PVC, Latex, Pthalates and Lead. Unlike plastic, It can be heated or cooled without releasing harmful chemicals.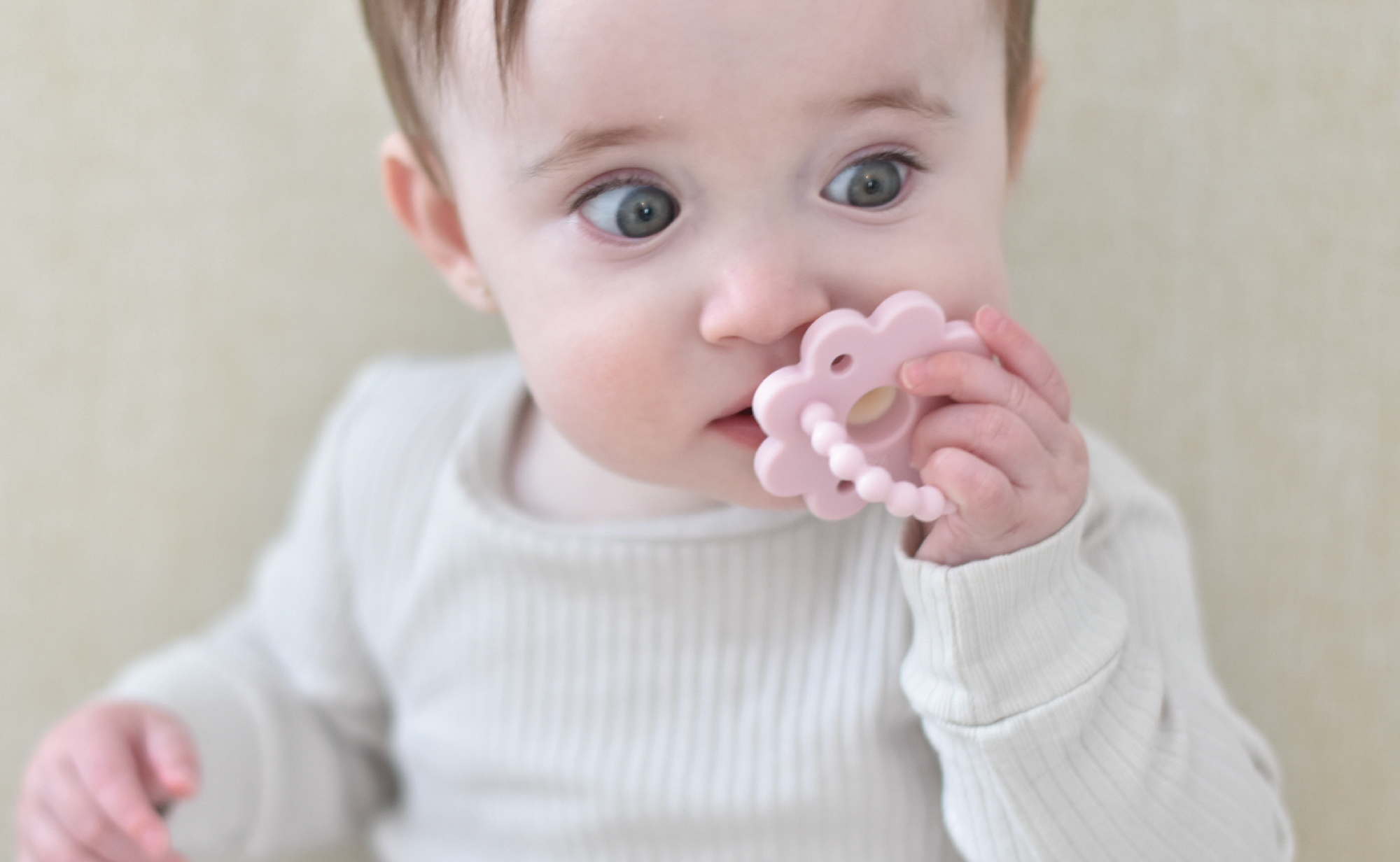 Safety Tested
All Smooch teethers are compliant with US Consumer Product Safety Commission (CPSC), Small Parts and Abuse Tests. All products are tested in an FDA approved lab being put into production. Inspect teething toys and teething accessories before use.