Waterproof Bibs
Smooch's extra coverage Waterproof Bibs allow you to spend less time cleaning up and more time enjoying precious moments together with your baby. Our adorable bibs provide 30% more coverage than silicone or cloth bibs, keeping your baby clean and dry. Our extra deep and wide pocket catches spills and crumbs, protecting your baby's clothes, highchair and home from messes. Also, Smooch Waterproof Bibs are designed to grow with your baby. The adjustable velcro closure fits babies & toddlers 6-24 months.
Frequently Asked Questions
How many Waterproof Smooch bibs does my baby need?
We recommend to start with 2-3 of our Waterproof Bibs and then increase the amount if needed.
Are Smooch Waterproof Bibs stain resistant?
Generally yes. For stubborn stains, rinse the bib immediately under cold water and spot clean with mild dish soap. Let the bib sit for five minutes with the dish soap still on it. Afterwards, rinse the bib again under cold water. Allow to air dry before use.
After machine or hand washing, do Smooch Waterproof Bibs stay soft or get stiff?
Smooch Waterproof Bibs go right back to their soft, silky feel after being washed. Do not place the bib in the dryer. Allow it to air dry.
Are Smooch Waterproof Bibs easy for a baby or toddler to pull off?
We've designed our Waterproof Bibs with a special tug-proof velcro closure that is hard for a baby or toddler to pull off but is soft enough that it won't get caught in a child's hair.
BPA Free
Non-Toxic

Safety Tested
No Harmful Chemicals
Bib-savvy Mama: 7 Tips for Choosing the Perfect Bib for Your Little One!
So, your little one is ready for baby led weaning. It is so exciting to your baby try different foods for the first time. And the faces they make in reaction to trying those new foods are priceless. However, Feeding time with your baby or toddler can be a messy affair, with food ending up on the floor, your baby's clothes, and all over their high chair. That's why a feeding bib is a must-have item for all moms. But with so many different types of bibs on the market, it can be tough to choose the right one for your baby.

Here are seven helpful tips for choosing the right bib for your little one:

Coverage is everything: A feeding bib should cover a large area of your baby's chest and lap to catch any spills and stains. Look for bibs that are wide and long enough to provide adequate coverage. Smooch Waterproof Bibs have adorable ruffle flaps that cover your baby's shoulders and the length goes down to your baby's lap to provide full coverage. In addition, they feature an extra long and wide front pocket that catches spills and mess.

Choosing a bib that grows with your baby: A bib with adjustable closures, such as snaps or Velcro, will allow you to adjust the size to fit your baby comfortably as they grow. Smooch Waterproof Bibs feature an adjustable velcro closure that is adjustable to fit babies and toddlers ages 6-24 months. Our velcro is baby friendly and durable. It is hard for your little one to pull off but soft enough not to get stuck in their hair.

Waterproof is a life saver: A waterproof bib made from materials such as polyurethane will prevent any spills or stains from soaking through to your baby's clothes. This makes clean-up much easier and less messy. Smooch Waterproof Bibs are made from polyurethane with a cotton border.

Opt for a machine-washable bib: With a baby, you'll have plenty of laundry to do already. Choose a bib that can be easily thrown into the washing machine for quick and easy cleaning. Smooch Waterproof Bibs may be placed into your Washing Machine on delicate. Allow to air-dry before giving it to your baby

Check for safety features: Ensure the bib has no small parts that could become a choking hazard. The material should also be non-toxic and safe for your baby to chew on. Smooch Waterproof Bibs are rigorously safety tested prior to production in an FDA approved lab. They are non-toxic and free from all harmful chemicals.

Look for a soft and comfortable bib: A soft and comfortable bib made from materials will ensure your baby is comfortable during feeding time. Smooch Waterproof Bibs are buttery soft and lightweight so they will not irritate your baby's sensitive skin or weigh them down during mealtime.

Consider the design and style: Feeding bibs come in a range of designs and styles, from cute and colorful to simple and practical. Choose a bib that fits your personal taste and matches your baby's outfits. Smooch Waterproof Bibs come in six gorgeous designs. Choose one that fits your baby's personality today!

In conclusion, choosing the right feeding bib for your baby can make feeding time less stressful and more enjoyable. Consider the size and coverage area, adjustable closures, waterproof material, machine-washable, safety features, soft and comfortable material, and design and style when selecting the perfect bib. With the right bib, you can keep your baby clean and happy during feeding time.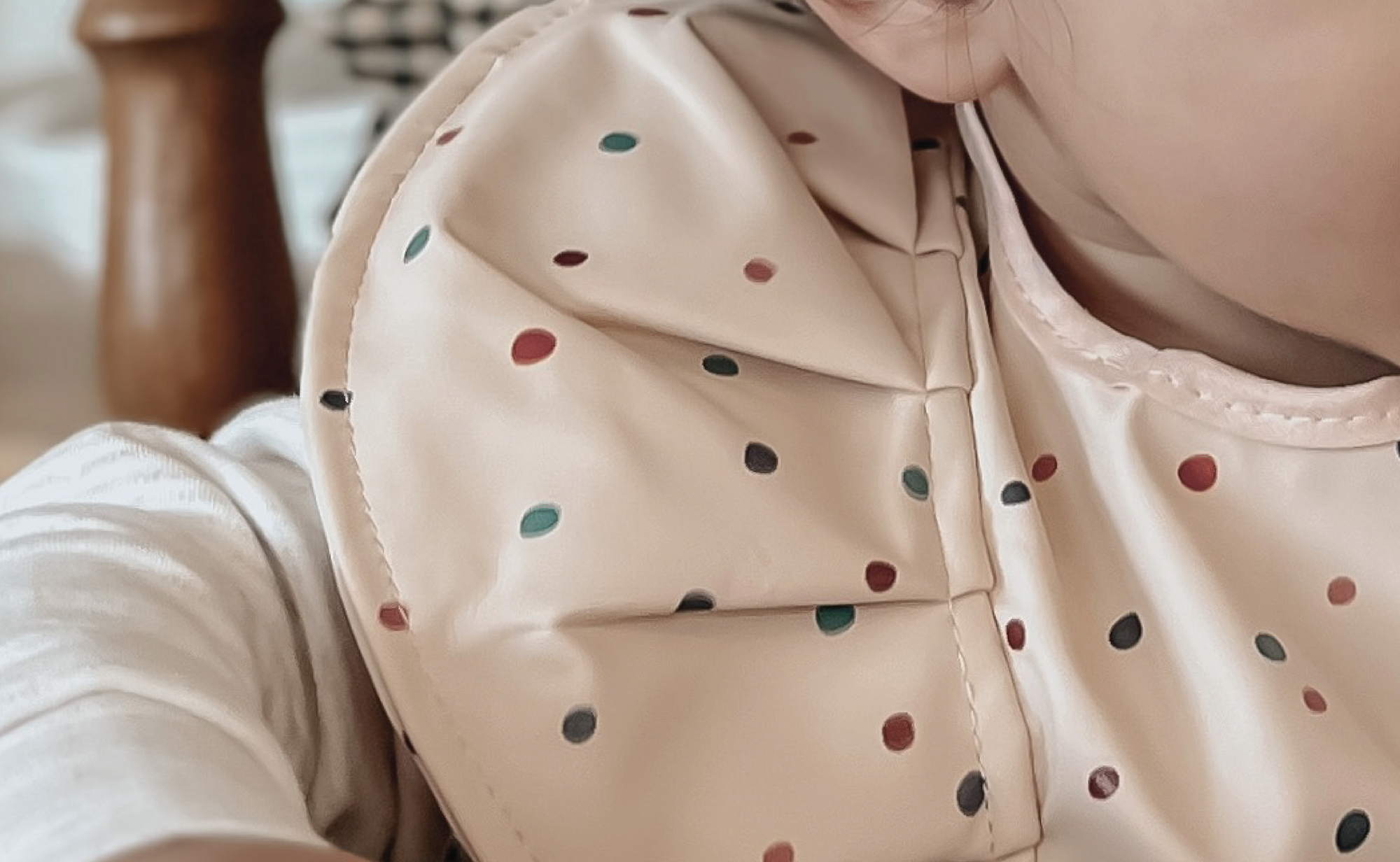 Soft & Comfortable
Smooch Waterproof Bibs are made from incredibly soft, baby friendly Polyurethane and the edging is stitched using 100% cotton so our bib will not irritate your baby's sensitive skin. Also, our bib material is lightweight so your baby will not be weighed down while eating and playing.
Safety Tested
All Smooch Waterproof Bibs are compliant with US Consumer Product Safety Commission (CPSC), Small Parts and Abuse Tests. All products are tested in an FDA approved lab being put into production.