Soothing Solutions For Your Teething Baby
Our medical grade silicone teethers are flexible, soft, non-toxic, odorless and free from harmful chemicals. They are available in a variety of beautiful colors and playful designs that will fit seamlessly
into your home.
Soothipop Teething Pacifier
Our flagship product, The SoothiPop is an irresistibly chewable textured teething pacifier made from 100% Medical-Grade Silicone. The SoothiPop is durable, lightweight, effective and easy to use for teething babies 3 months +.
Take our teethers on-the-go with you for easy soothing and playing when you're away from home.
SHOP NOW
Soothing Baltic Amber Collection
We are the first baby company to infuse Baltic Amber into Medical Grade Silicone. Our Baltic Amber Teething Collection are the very first teething remedies ever to provide babies with the healing properties of baltic amber & the softness of medical grade silicone. Our Baltic Amber comes directly from original source of baltic amber - The country of Lithuania, in the Baltic Sea.
SHOP NOW
Smooch Is A Proud Recipient Of The Mom's Choice Awards®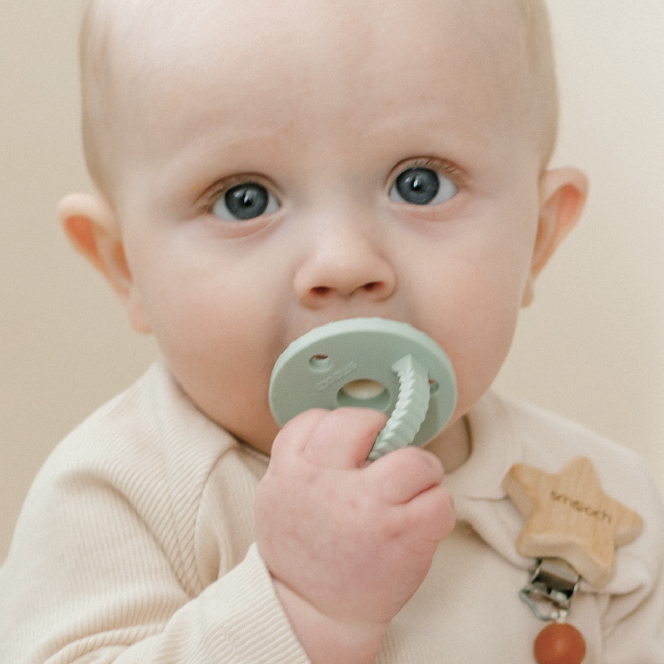 Why We Love Silicone
Silicone is a recyclable material made from silica (sand). Our Medical Grade Silicone is non-toxic, odorless and free from BPA, PVC, Latex, Pthalates and Lead. Unlike plastic, It can be heated or cooled without releasing harmful chemicals.
Safety Isn't By Accident
All Smooch teethers are compliant with US Consumer Product Safety Commission (CPSC), Small Parts and Abuse Tests. All products are tested in an FDA approved lab prior to production. Inspect teething toys and teething accessories before use.
Irrisistably Chewable Textures
Buttery soft, textured Silicone surfaces filled with our patented bubble bumps and ridges gently massage your baby's sore gums and provide teething relief while your baby plays and chews.


We Bundle Our Products
To Give You More For Less
Our gift bundles contain everything you need to soothe a teething baby in one beautiful set.


SHOP NOW
It started with one teething baby and one simple purpose.
Hi! My name is Lindsay and I am a co-founder of Smooch. My son started teething at just three months old and suffered with severe teething pain that kept him (and me) up at night for months until his first two teeth poked through. Since my son started teething super young, he lacked the fine motor-skills required to use the majority of teethers available online and in stores. My husband and I founded Smooch and created a collection of safe Silicone teethers that are easy to use for even the youngest teething baby. Our mission at Smooch is for our teething remedies to allow parents and babies to spend more time creating precious moments and less time struggling with teething pain and discomfort.


LEARN MORE
We Love Hearing From You
"This teether is incredible! The design is absolutely beautiful and it is super practical! My baby who is almost one loves teething on it. It looks like a pacifier but it is a teether so my baby does not destroy her pacifiers she chomps on this! Great product!"
-Daniel
Our Amazon reviews speak for themselves
"My mother in-law bought this adorable teether toy for my wife and me for a baby shower gift. It turned out to be the perfect gift. My baby will not put it down and does not cry at all when she is gnawing on it. I am going to buy another one so we have a spare. The handle is the perfect grip for babies to hold. This teether is also so easy to wash, just use soapy, hot water. I highly recommend it for all parents who are looking for a BPA free, cute teething toy."
-CR
Our Amazon reviews speak for themselves
"I bought two pacifiers for my granddaughter to ease her teething. Both pacifiers are excellent, they help keep her hands out of her mouth for a bit. She enjoys chewing on the grasping ring until she decides she wants to throw it. I am so glad that I was able to find something like this."
-Barbara Olsen
Our Amazon reviews speak for themselves
"This teether is incredible! The design is absolutely beautiful and it is super practical! My baby who is almost one loves teething on it. It looks like a pacifier but it is a teether so my baby does not destroy her pacifiers she chomps on this! Great product!"
-Daniel
Our Amazon reviews speak for themselves